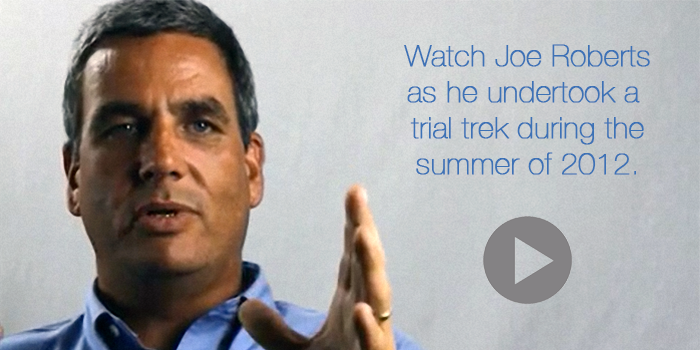 Trek Across Canada - Where's Joe?

On May 1, 2016, Joe Roberts, former homeless youth, will push a shopping cart across Canada to raise awareness and dollars to end youth homelessness.

This national trek will begin May 1, 2016 from St. John's Newfoundland and end September 30, 2017 in Vancouver, British Columbia, a 9,000km, 17 month journey.

Throughout this journey, Joe will engage with Canada's population by stopping at over 300 secondary schools and be involved in over 200 community engagements. Read More →
Joe Roberts begins his 17 month Trek Across Canada in

The Push for Change as a campaign is designed to do 3 things:
Engage and inspire Canadians to want to make a difference.
Raise awareness and spread the possibility that ending youth homelessness is possible.
Raise dollars to support the end of youth homelessness.
Click here to join the Push for Change and sign the petition today!


SleepOut Challenge - A Million Nights of Courage
For 1 night we challenge you and your family to leave your bed behind and experience a little of what homeless people all over Canada endure every night of the year (and for piece of mind you can do this from within the safety and security of your own home) whilst also donating to our charity to help end youth homelessness.
Register here →
HOST AN EVENT
Help create lasting change with meaningful engagement. Youth will directly experience a story that inspires them to believe in a greater possibility for themselves and to take action.
The Push For Change will personally reach 150,000 youth in 300 schools across Canada. And will  also reach hundreds and thousands of Canadians via community events, news coverage, social media, corporate and private sponsorship.
Official Sponsors & Suppliers