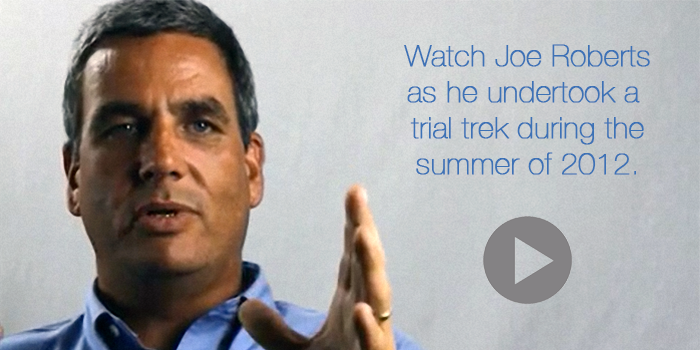 Trek Across Canada - Where's Joe?
On May 1, 2016, Joe Roberts, former homeless youth, will push a shopping cart across Canada to raise awareness and dollars to end youth homelessness. This national trek will begin May 1, 2016 from St. John's Newfoundland and end September 30, 2017 in Vancouver, British Columbia, a 9,000km, 17 month journey.

Throughout this journey, Joe will engage with Canada's population by stopping at over 300 secondary schools and be involved in over 200 community engagements. Read More →
Joe Roberts begins his 17 month Trek Across Canada in


SleepOut Challenge - A Million Nights of Courage
On any given night in Canada, 6,000 youth are homeless, without a bed of their own. If you knew you could make the difference in one of these lives by sleeping out of your comfort zone, would you do it? Join The Push for Change quest to end youth homelessness by participating in the SleepOut Challenge.
For 1 night we challenge you and your family to leave your bed behind and experience a little of what homeless people all over Canada endure every night of the year (and for piece of mind you can do this from within the safety and security of your own home) whilst also donating to our charity to help end youth homelessness.
The challenge is easy and straightforward:
Choose a night to sleep out of your comfort zone
Reflect on what it feels like to be homeless
Record your experience
Post on your favourite social media channel
Donate to The Push for Change
Challenge your friends to do the same
Register here →
Official Sponsors & Partners