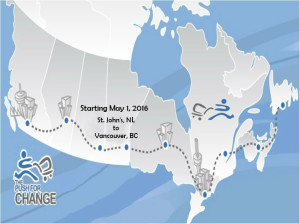 Good day fellow Change Maker. The Push for Change needed to take some time to reflect and properly plan and build if we wanted to truly make a difference with our campaign.  That said we are now back at it and have a new launch date.
On May 1, 2016, I will push a shopping cart 9,000 km across Canada.  The trek will start in St. John's NL and end 517 days later in Vancouver BC, on September 30, 2017. It's going to be incredible!
The Push for Change (PFC) will be a national awareness and youth empowerment project to help end youth homelessness. The shopping cart is a symbol of my transformation from youth homelessness and it represents the very outcome I want to avoid for future young people
PFC's legacy is to build a framework that eventually supports every child in Canada to safely transition into adulthood.
Along the way The Push for Change team and I have over 400 planned events with schools and community partners, our focus is to inspire and engage Canadians to join PFC in a series of "calls to action." These educational interactions will help us raise awareness and funds.
Our core strategy will be to leverage community and school events with social media. By doing so we will engage the country in a meaningful conversation around changing the way we think about ending youth homelessness.
Stay tuned for more exciting news and events.
Joe Roberts and the Push for Change Team
#thepushforchange