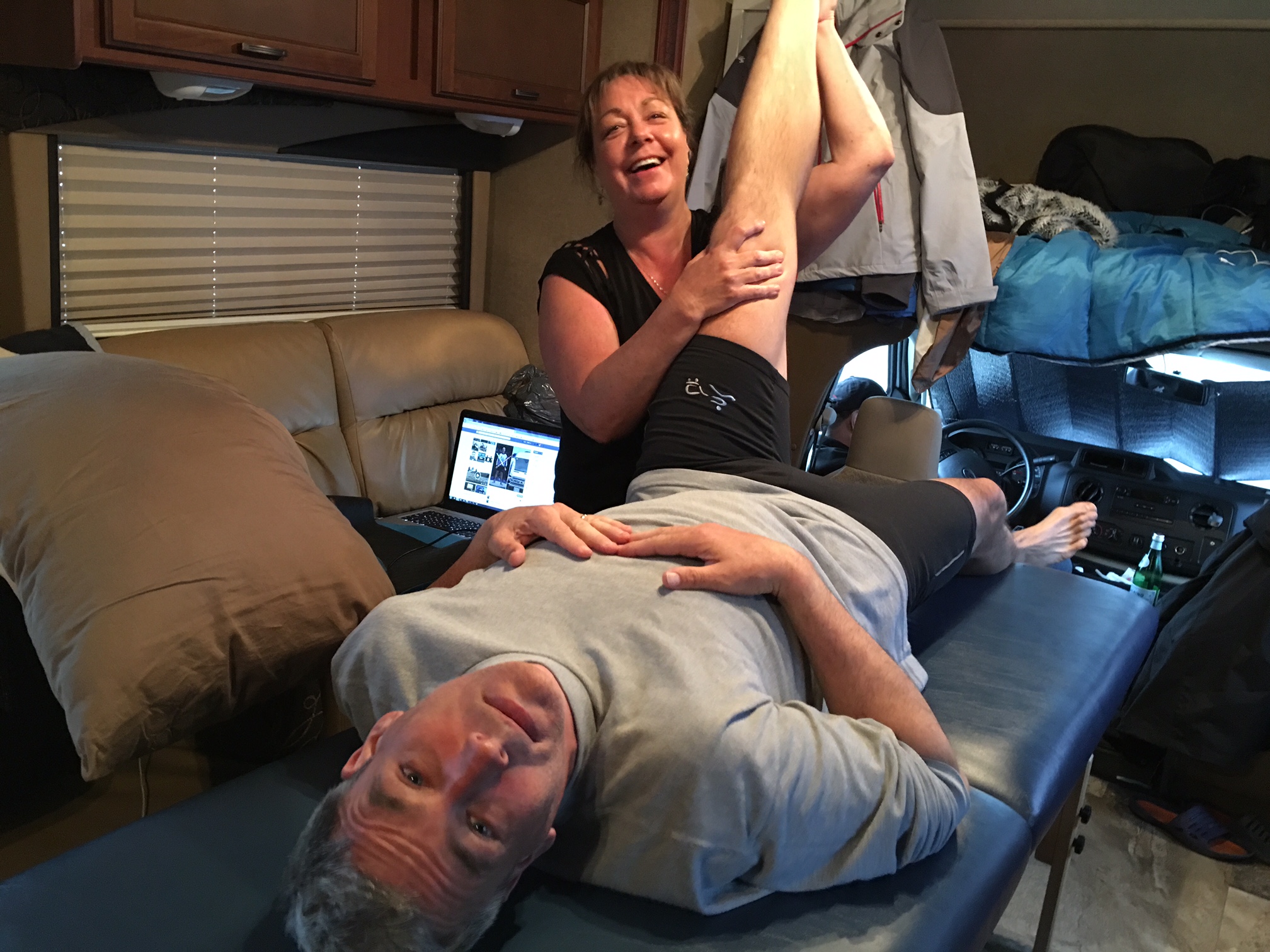 Early into the trek I experienced some serious knee pain. My first thoughts went to fear and uncertainty. What if I can't finish? What if this is it, after all the work we did, to come this far!!!
Often the first thoughts are fear based. Emotion clouds our ability to make clear decisions and our first reaction is always to DO SOMETHING! But sometimes what you need to do is nothing. Sit still and evaluate what the next step is and the next step may be a "time out".
After a chat with Marie, and an email to Sean (Sports Psychologist and experienced elite athlete) we made appointments with RMT and a Physiotherapist. We learned that my knee was being pulled and was not tracking properly causing inflammation and pain. Jenna the Physiotherapist gave me a taping technique and a group of stretches to do. Debbie the RMT came and worked out all the knots. The next day I did not walk and took an unscheduled rest day. It was tough to sit still but it paid off.
What I learned was the stretching and time to recover is what was needed to solider on. I was fortunate enough to have the direction, the guidance and the people around me to navigate the emotion and to give me the needed coaching to move on. What if I did not have a solid support team in place?
The Push for Change is about ending youth homelessness and how we do that is by adequately supporting youth in their time of need. Every one of us have unlimited potential but not every one of us have solid support systems around them. We need to do a better job providing the resources to help every young person transition the challenging times in their lives. So when their life gets hard and painful, instead of something small crippling them and taking them "out of the race", we provide the needed support to nurture through both the pain and the exercises needed to move onto unlimited possibility?
That's what we are all about at The Push for Change – to help stretch every young person's potential!