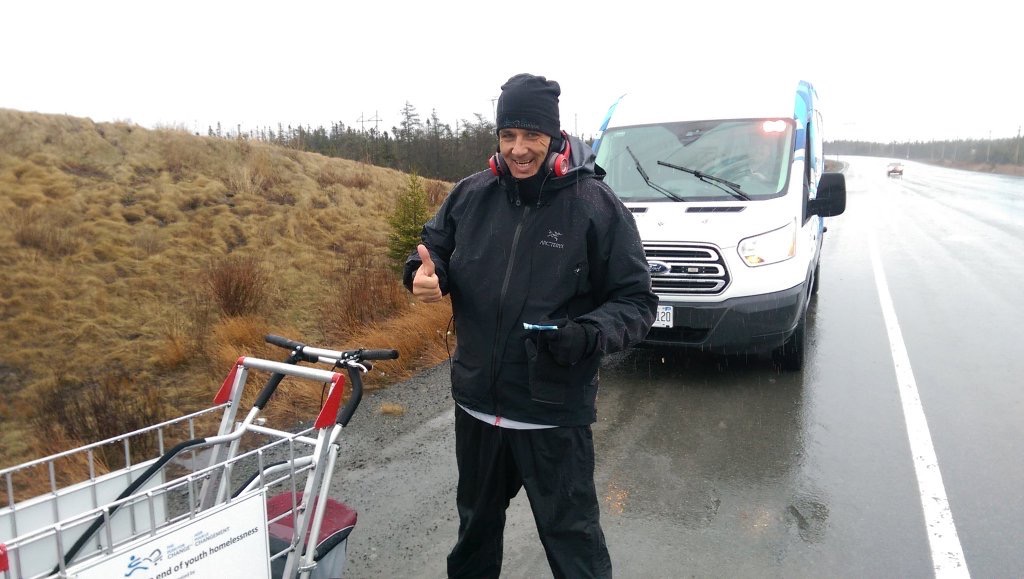 Over the past few years building the Push for Change I had a clear vision of what it would take to make this campaign a success. Marie and I have had our heads down working so hard that when our launch day May 1st 2016 finally arrived it seemed surreal.
Today we are over four weeks into the campaign. We have walked 749 KM and have 80% completed Newfoundland. Sounds exciting right? It's not been without it's challenges. Many days so far I have walked for over 12KM in pouring rain. Not drizzle, not light rain, but torrential down pour. Often I wake up to the sound of this very kind of rain pounding on the roof of the very comfortable RV we are using as our home and base camp across Canada. If ever I want to roll over and stay in bed – rain days are those days!
Unfortunately, the Push for Change does not have "lazy days" – I am personally driven to get up every day rain or shine and complete what I committed to doing. So is my team. It reminds me that we "walked into" this project knowing it would be tough some days. Call it invited adversity if you will.
So why invite adversity? Why bother? Why would you walk so far and push yourself so hard? Simple, we believe in the cause and believe that our actions today will create new possibilities tomorrow.
What wakes me up is not the rain, it's the burning desire to create change in this country for young people who are where I used to be and who deserve all the opportunities I had and to find their potential!
Maybe by my spending a day in the rain, some young people won't have to. That thought keeps me feet moving.