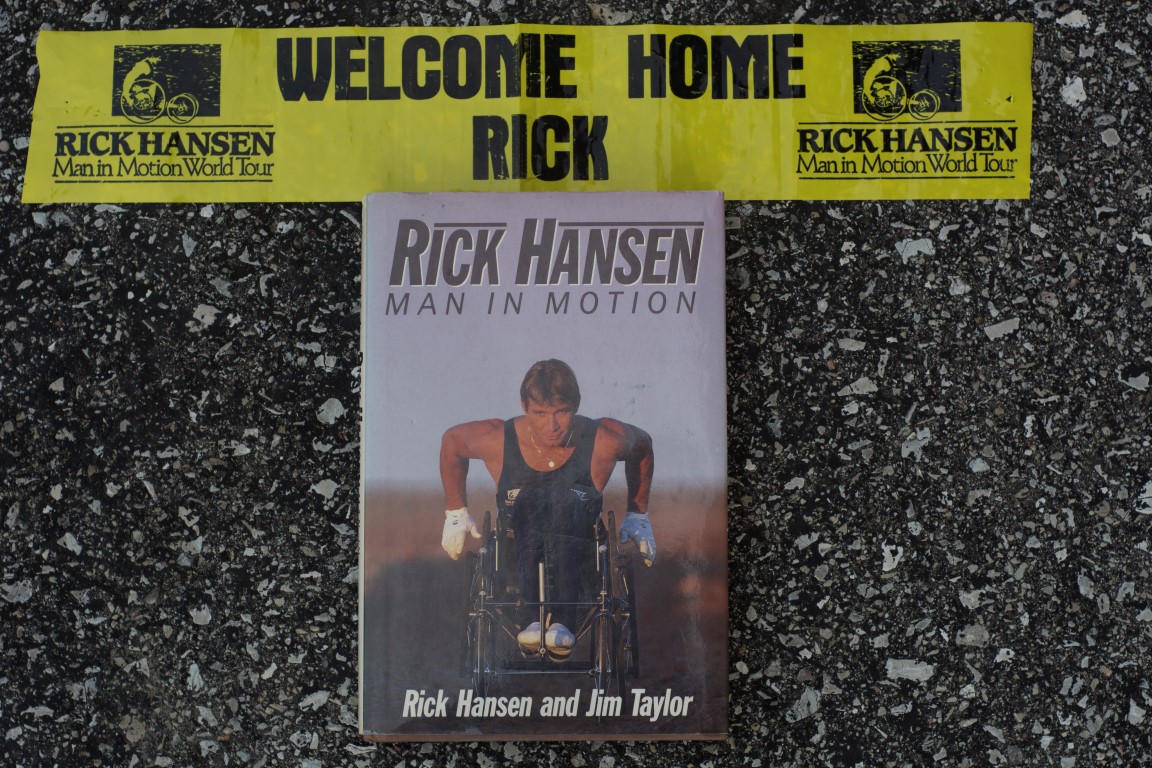 Who inspires you?
The reporter from the Halifax Chronicle asked me the other day "Who inspired you to walk across Canada?"
When I was first building my career in Vancouver I was broke so I would browse used books stores, the Salvation Army Thrift Stores being my favourite and would get great books from inspiring people at a fraction of the cost.
Around this time I became interested in the speaking business so I decided at the encouragement of my mentor Peter Legge to attend a CAPS conference (Canadian Association of Professional Speakers). The date arrived and I was NOT disappointed. The line up was fantastic, with great speakers like David Sweet, the late great Charlie "Tremendous" Jones and our very own Canadian Legend Rick Hansen.
After Rick spoke I was quiet inspired so I rushed up to thank him. He had copies of his book for sale. I wanted one so bad but I did not have enough money, I thanked him and walked away. I was a little embarrassed that I could not afford his book but was determined to get a copy.
It was at the top of my list as I began scouring used book stores until one day I found it. Three bucks is what I paid! I was so happy I rushed home and began reading. Learning about a man who against the odds wheeled his chair the circumference of the planet and built a foundation upon this legacy. A true Canadian hero and Change Maker.
But there's more. I was about 10 pages in when something fell out of the book onto my lap. It was a piece of plastic finish line race ribbon and had the words Welcome Home Rick. Could it be??!? I started to search through the pictures in the book, sure enough I found the same ribbon that was used when Rick wheeled into Vancouver at the end of his Man in Motion tour. I not only had a copy of Rick's book I also had a piece of Hansen memorabilia that I am sure to this day is rare indeed.
Over the last almost 4 plus years of building and dreaming about The Push for Change campaign, that finish line ribbon has acted as my inspiration. I pinned it above my bed back home and today it is taped above my bed in the RV where I can see it before I sleep and the moment I awake.
I have been blessed by Rick Hansen in many ways. He said some nice words about my book, we shared a number of conversations, and I had the pleasure of working with team members of his when planning PFC's logistics strategy.
More than all of this however was the advice Rick gave me in a phone call many years ago. I asked what was your secret? He said, and I will paraphrase, "find something big to tackle, something that inspires people and offer them to join, in this you can create a movement and make change in the world."
Today is day 72 of The Push for Change and we have reached KM 1445 with 8600 KM to go. In 15 months myself and Team Push for Change will complete the walk into Vancouver and I envision Rick Hansen there to meet me, wheel with me and maybe then I can ask him to sign my book.
Who inspires you?