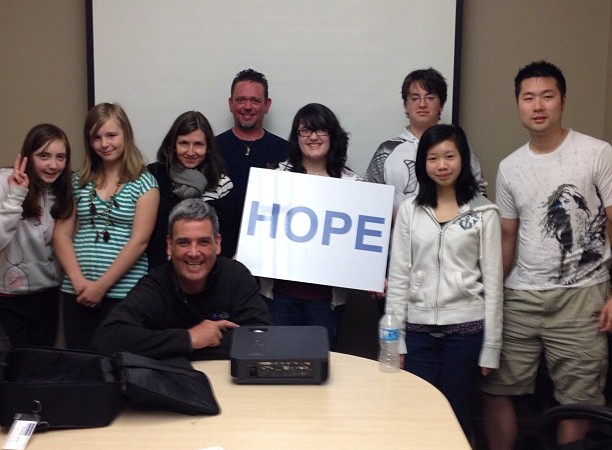 The idea of The Push for Change song was born out of a caffeinated discussion with Sean Richardson, Cal Misener and Joe in a Vancouver coffee shop in the spring of 2012.
Cal, life long musician and music enthusiast came up with the possibility of producing a theme song that would speak to the spirit of The Push for Change.
We all liked the idea but how could we do this with little to no money?
Through Cal's network, we accessed a "song mentor" Jen Herschmann to facilitate and lead a mentorship session with a group of young people who would help us develop the lyrics, melody and song wireframe. We set a date and enrolled a number of young volunteers and early one Saturday morning we met in Coquitlam and I shared my story and the story of The Push for Change with these young people. Throughout that morning with the coaching and leadership of Jen, the songsters came up with draft lyrics and a melody that was absolutely amazing.
So now we had a rough cut but we had to record and we needed a lead vocalist.
Sean's wife; Kate Richardson was the perfect candidate, and when you listen to the song you will understand why. Her voice as a female vocalist is powerful, passionate, expressive, and beautiful.  It was amazing too because while this process was going on, Kate was going through a pregnancy and was not feeling well the day they recorded.  It did not affect her performance one bit!  With Kate leading and the songsters backing her up that morning they produced The Push for Change single, now available on Itunes and registered with Socan.
Thanks to Nimbus Studio of Recording Arts in Vancouver BC for the generous use of their studio.
From concept to finished product it was an exercise in possibility. From that first coffee shop discussion to the song being completed only took about 3 months.