The Trek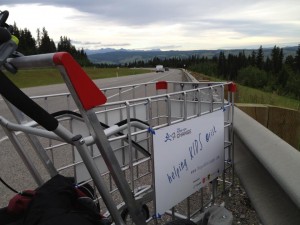 The NATIONAL TREK
On December 1st, 2011, Sean and Joe came up with this idea to grab the attention of the nation – pushing a shopping cart across the country to support kids at risk – to help raise awareness for prevention – so that no child has to repeat what Joe went through.
We believe that anything is possible, so starting in St John's Newfoundland, former homeless addict, Joe Roberts, will begin the 9000km Trek across Canada, pushing a customized shopping cart.
The journey will cover the most densely populated regions of Canada, with events, public experiences and appearances throughout the nation. The project has an estimate start to finish time of  12-14 months.
Our focus today is in gathering the resources and sponsorship necessary for a successful campaign.  We had initially planned to launch in May 2012 but chose to take extra time to ensure we have maximum impact. Building a national campaign takes lots of work and planning. Stay tuned for launch details!
SUMMER 2012
Not being satisfied with just one big long term goal, Joe and Sean devised a plan to do a training run from Calgary to Vancouver this summer 2012. At the time of this posting, Joe is well on his way, somewhere deep into the Canadian Rockies. We are capturing the training run on film – so stay tuned for the upcoming documentary!  THIS WAS SUCCESSFULLY COMPLETED!
Make sure to keep posted on the Trek's daily updates, videos, blogs and photos via our Facebook Page (Click Here) and Twitter (click here)
Stay tuned for more excitement as the project grows!
Read more about the SHOPPING CART