The Trek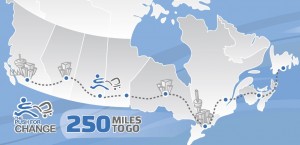 We believe that anything is possible, so in September of 2016, in St John's Newfoundland, a cross country trek will commence. Equipped with a customized shopping cart, former homeless guy, Joe Roberts will begin the approximately 9000 kilometer journey.
The "warm up" to the national event will start this summer with Joe doing a trial run, pushing his shopping cart from Calgary to Vancouver. This is scheduled for July 1st 2012! COMPLETED!
The journey will cover the most densely populated regions of Canada, with events and appearances throughout the nation. The project has an estimate start to finish time of  12-14 months if all goes well.
A map showing proposed route will be up shortly.
The trek will be covered via blog, Facebook and YouTube and we are looking for support.
Stay tuned for more excitement as the project grows!
Read more about the SHOPPING CART
Read more about the ROUTE MAPPING